Saturday, Nov. 18, 2023 
The Northeast's largest nighttime holiday parade presented by the City & County of Schenectady
A storied holiday tradition! Schenectady County welcomes the holiday season in Downtown Schenectady with sparkling floats, glittering firetrucks, marching bands, dance troupes, and a special visit from Santa Claus. It's fun for the whole family. Gather with friends, family, and neighbors along the parade route, take a stroll along State Street, grab a hot coccoa or a bite to eat at your favorite Downtown restaurant, and start your holiday shopping on Jay Street. Come early and enjoy live music in the streets of Schenectady!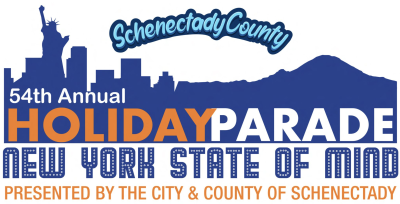 This Year's Theme: "New York State Of Mind" Let's celebrate the best of what makes New York and Schenectady County a great place to live, work, and play. Sign up to march or register your float, and spread holiday cheer! Get ready and start planning. Applications for the 2023 parade are now open. REGISTER TODAY!
Announcing The 2023 Holiday Parade Grand Marshal
Members the New York Air National Guard 109th Airlift Wing, and as a fitting tribute to their 75th anniversary, we are honored to have them serve as the Grand Marshal of our holiday parade. This celebration not only marks their incredible milestone but also acknowledges the invaluable service they provide to our country and local community.


What to expect
For the second-time, a pre-parade Holiday block party will take place starting at 3pm on State Street and Jay. Thousands of people came out to watch live music be performed live on the parade mainstage. The parade will begin at 5pm starting at SUNY Schenectady Community College and will go up State Street past the MVP building. Be sure to bring a chair, blanket, hand warmers and festive attire.
Over 100 groups are expected to participate in this years parade, including: 
Dozen's of brighly decorated and illuminated floats built by local volunteers 
Decorated firetrucks, police cars, snow plows, and more decked out in holiday style
Holiday tunes performed by local marching bands, drumlines, and musicians
Local dancers dance down state street with holiday-infused routines
Santa and Mrs. Claus make their first official visit to Schenectady County spreading holiday cheer and reminding everyone to be kind