VAN GOGH: THE IMMERSIVE EXPERIENCE HAS EXTENDED IN SCHENECTADY, NY!
Discover Schenectady is excited to welcome Van Gogh - The Immersive Experience and its audience to Armory Studios NY, a fully ADA compliant facility in Downtown Schenectady! Tickets available now through September 2023!! Don't wait, get your tickets today!!  
Here is everything you need to know while in town for this awesome exhibit! Whether you're looking on where to buy tickets, where to stay and what to do while you're in town, you've come to the right place! 
ABOUT VAN GOGH: 
Have you ever dreamt of stepping into a painting? Take an awe-inspiring journey into the incomparable universe of Van Gogh, one of the greatest artistic geniuses of the 19th century. Explore his life, his work, and his secrets as never before through cutting-edge 360-degree digital projections, a one-of-a-kind VR experience, and a uniquely atmospheric light and sound show. This unique experience brought to you by Exhibition Hub has already thrilled 2 million visitors in the USA, in New York, Atlanta, Washington DC, and Boston, among other cities like London. Become completely immersed in the works of art around you, and feel the shift in reality as you dive deep into the world created by Van Gogh's brush strokes.
TICKETS: 
Tickets are now on sale! Don't wait, this is a limited time engagement! 
Standard admission includes entry to the exhibition:
Adult (ages 13+)
Child (ages 4–12)
Senior (65+ y.o.), Student (13 to 26 y.o.) or Military - valid ID required
Family Bundle (min. 4 people, of which max. 2 adults)
Group Bundle (min. 9 people) - enjoy a 10% discount on ticket price
VIP Admission - includes entry to the experience, entry to the VR experience* with skip-the-line, and a special gift from the gift shop!
VIP Adult (ages 13+)
VIP Child (ages 4–12)
*For Standard Access only ticket holders, entry to the VR experience can be purchased separately on site
Visit Van Gogh's website to purchase your tickets today.
WHERE TO PARK:
Armory Studios NY is located at 125 Washington Ave., Schenectady, NY 12305. Traveling by car;  
From Albany and points South & East, take I-90 to I-890 and take Exit 4-C for Washington Ave. Take a right on State Street and a right on S. Ferry St. for Parking
From points West, take I-90 to I-890 and take Exit 4-C for Washington Ave. Take a right on State Street and a right on S. Ferry St. for Parking
FREE parking is available in Lots A, D & H for Van Gogh - the Immersive Experience. Lot H, adjacent to Armory Studios, is designated for ADA Parking. 
Paid street parking is also available during business hours and is FREE after 5pm and on Weekends. 
Convenient Ride Share drop-off & pickup is available onsite.  
CDTA stop is located at State St. & S. Church St. Please note, construction of CDTA's Mobility Hub will begin April 4, 2023 and may impact their schedule. Please check HERE for routes & schedules.  
Amtrak station is located at 332 Erie Blvd. (1/2 mile to Armory Studios) with convenient service from NYC (and points south), Buffalo (and points west), Montreal (and points north) and Boston (and points east)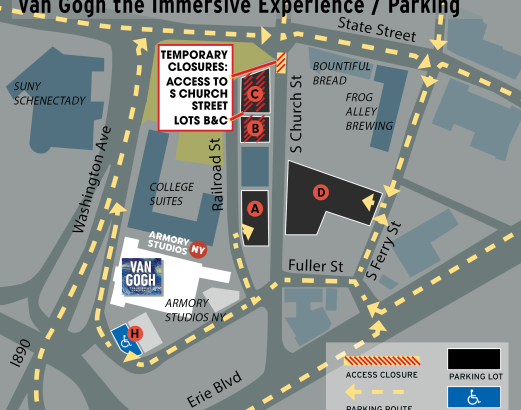 WHERE TO EAT:
Our food options range from classic Italian bistros, to Mediterranean, Asian Fusion and everything imaginable in between! Check out our website, for a list of restaurants in Schenectady County!
WHERE TO DRINK:
Whether you are looking to enjoy a glass of wine, or a flight of craft beer at one of our six first-class breweries, there is no shortage of places to grab a drink in Schenectady County before or after the show. Visit our website for a list of places to grab a drink in Schenectady County!
WHERE TO STAY:
Our unique hotels offer options for everybody and every budget. Discover all that Schenectady has to offer for places to stay! 
DOWNLOAD A COPY OF OUR VISITOR GUIDE!
From hot spots to hidden gems, our guide to everything you need to explore and enjoy Schenectady County! Download a copy of our Visitor Guide before your visit!
We can't wait to see you in Schenectady County! Plan your trip today! 👀